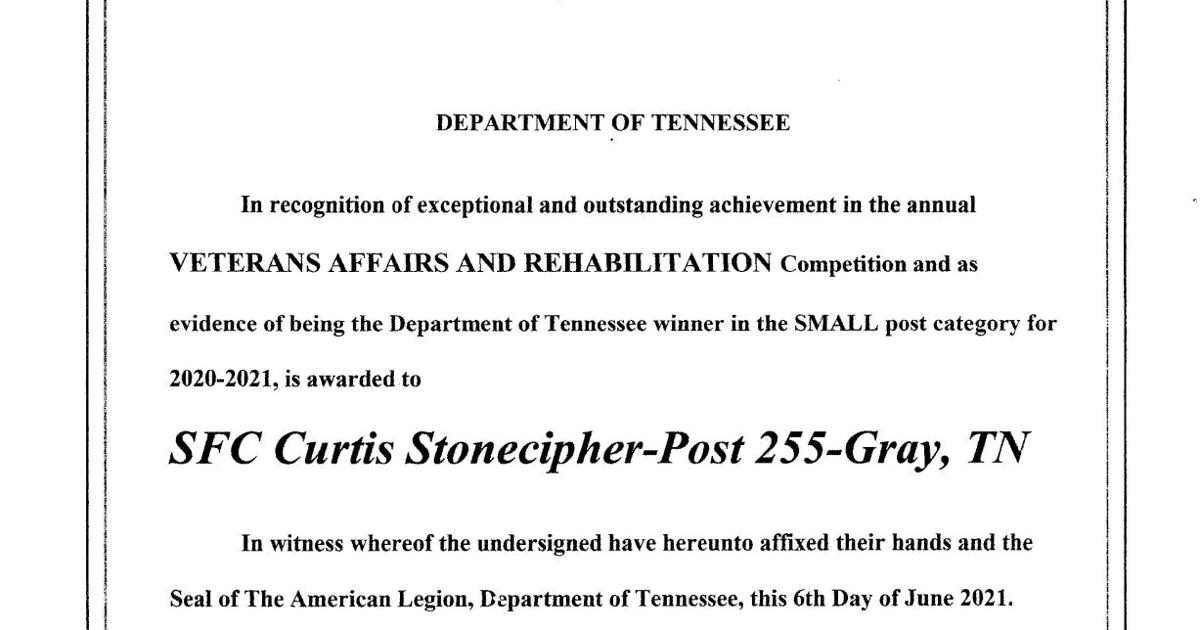 American Legion Post in Gray Receives Award | Living
SFC Curtis Stonecipher American Legion Post 255 in Gray has been recognized for outstanding achievement in the annual Veterans Affairs and Rehabilitation competition by the American Legion Department of Tennessee.
The post was named the winner in the small post category in 2020-21.
In a press release, the post said the award recognizes programs, services and advocacy efforts that improve the lives of those who have served, as well as their families and dependents.
Vice Commander Doug Mancabelli said the group's duty officers, Commander Gene Egan and Warrant Officer Cecil Carter, spend a lot of time on VA disability benefit claims.
Any veteran in need of assistance can meet with one of the group's representatives every Wednesday from 9 a.m. to 4 p.m. at the Veterans of Foreign Wars office at 830 Minga Road across from Boone Dam.
The post also named two recipients of the Boys/Girls 2022 State Awards. Daniel Boone High School ROTC member Jackson Ramsey will attend Boys State at Tennessee Tech, and Daniel Boone High School ROTC member Casey Grindstaff will attend Girls State at Lipscomb University.
The American Legion Boys/Girls State program acts as a hands-on experience for young men and women as they learn the workings of government.
According to his website, the American Legion was incorporated in 1919 as a patriotic organization of veterans. It focuses on service to veterans, military and communities. Today, it has nearly two million members and more than 13,000 publications worldwide.