America's sworn enemy! China's 'deadliest' warship flexes its muscles near Japan and US military base in Okinawa
On June 21, Chinese state media reported that a People's Liberation Army – Navy (PLAN) flotilla led by the Type 055 destroyer "Lhasa" sailed from the northwest to the east and the southern Japan after making transits through three strategically important straits near the island nation.
Hawks Eye on USAF base? Chinese company buys land in North Dakota near critical US drone facility – reports
The Chinese report further said the ships had to make a full circle around Japan if they continued on their way before returning to base. Chinese naval transit coincided with Russian ships also circumnavigating Japan. However, no direct link has been established between the two.
After weeks of monitoring the movement of enemy warships near its territory, Japan presented a detailed version of events.
According to Japan's Defense Ministry, the advanced Chinese destroyer circled Japan with escorts during its first high seas exercises last week, bearing a striking similarity to Russian naval forces which were on a similar mission.
The Type 055 guided missile destroyer Lhasa, the Type 052D guided missile destroyer Chengdu and the Type 903A supply ship Dongpinghu completed an 18-day circumnavigation of Japan's main islands on June 29, according to information released on June 30 by the Japanese Joint Staff.
On June 12, the Lhasa crosses the Tsushima Strait, separating Japan from the Korean peninsula. It then traveled northeast in the Sea of ​​Japan, passing through the Soya Strait, separating Sakhalin from Hokkaido, on June 16-17.
The PLA Navy's 2nd large Type 055 destroyer, Lhasa, is reportedly holding its first deep-sea drills as it enters the Sea of ​​Japan, with experts saying the ship has reached full operational capability. pic.twitter.com/Sqdm93d6g4

— Zhang Meifang 张美芳 (@CGMeifangZhang) June 15, 2022
The destroyer then transited the Pacific Ocean heading south before turning west on June 21 through the Izu Islands, then returning to the East China Sea on June 29 via the Miyako Strait in the Izu Islands. 'Okinawa.
It is pertinent to note that the islands of Okinawa are home to a US military base.
For most of the voyage, the Chengdu and the Dongpinghu accompanied the Lhasa. However, the Dongpinghu avoided the Soya Strait in favor of a faster route through the Tsugaru Strait between Hokkaido and Honshu. Japan sent frigates and spy planes to keep an eye on the Chinese navy.
Debuts at World's Largest Military Exercises – US 'New Littoral Regiment' Aims to Deflate Chinese Threat at RIMPAC Exercise
According to the Japanese government, a group of Russian Navy warships led by the Udaloy-class destroyer Admiral Panteleyev transited the same route from the Pacific between June 15 and 21.
One 3 ships #Chinese #Marine task force toured Japan from June 12 to 30, the latest in a series of provocative moves by the Chinese military. Two destroyers – Type 055 LHASA 102 and Type 052D CHENGDU 120 with the Type 903 supply ship DONGPINGHU 903 – were tracked by Japanese forces pic.twitter.com/JDiQEuxeGF

— Chris Cavas (@CavasShips) July 1, 2022
EurAsian Times previously reported that China sent two coast guard vessels to navigate Japanese territorial waters near a disputed island group for more than 64 hours.
One of the Chinese vessels passed within 1.9 miles (3 kilometers) of the Senkaku Islands, beyond the internationally accepted 12-mile (19.3 kilometers) line that designates a country's territorial waters.
Japan at high tide
Following Russia's invasion of Ukraine, the Japanese government led by Prime Minister Fumio Kishida declared its determination to play a more active role in maintaining regional security. The growing partnership between Russia and China is seen as a threat to its security by Tokyo.
Japan has territorial disputes with China and Russia, with Beijing over the Senkaku or Diaoyu Islands in the East China Sea and Moscow over the Kuril Islands or the northern territories separating the Sea of ​​Okhotsk from the North Pacific.
Since mid-June, the constant presence of warships from both countries is the longest since China and Russia announced a joint 10-ship patrol around Japan in October 2021.
"This is a demonstration of military presence around Japan and can be seen as a show of force," the statement from the Japanese Ministry of Defense read.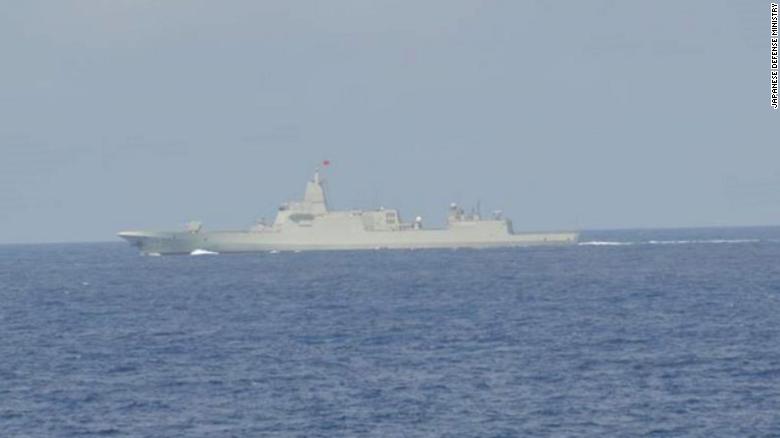 Moreover, the commissioning of China's largest destroyer has become important due to escalating regional tensions. Japan is a staunch ally of the United States, and due to its geographical proximity to Taiwan, it will inevitably be drawn into conflict with the latter deciding to invade Taiwan.
Earlier in April, China sent its four Type 055 Renhai-class destroyers to its east coast in a show of force when the US carrier battle group was conducting military exercises with Japan near the Korean peninsula.
**UPDATE**

4 #Chinese The Navy's Renhai Type-055 class cruisers (PLAN) came out today. #OSINT pic.twitter.com/Vf7eHSFJFq

— HI Sutton (@CovertShores) April 11, 2022
Lhasa's high seas transit around Japan comes nearly a month after Taiwan's Defense Ministry report on June 5 announced that China would be ready to invade the self-governing island state by 2027 by reinforcing his combat abilities.
The report cited by local media also mentioned that China would mass-produce its Type 055 destroyers, among other systems.
The deadly Type 055 destroyers
The Type 055 destroyer in the Indo-Pacific region is the biggest threat to the United States and its allies, including Japan.
The Type 055 destroyer was unveiled in 2017 and by NATO standards it is large enough to be classified as a cruiser. It contains 112 vertical launch tubes that can fire various missiles, such as long-range anti-ship land attack projectiles.
Chinese training video "Fake Space Station" mocked by netizens; Beijing calls it a "foreign conspiracy"
These 13,000 ton stealth missile destroyers are the most powerful surface fighters in the world. Chinese military analysts said Lhasa has reached 100 percent operational capability and can conduct military missions on the high seas as the core of a flotilla.
"This ship, in particular, has a sophisticated design, stealth features, radars and a large missile inventory. It is bigger and more powerful than most American, Japanese and South Korean destroyers," RAND Corp senior analyst Timothy Heath told CNN.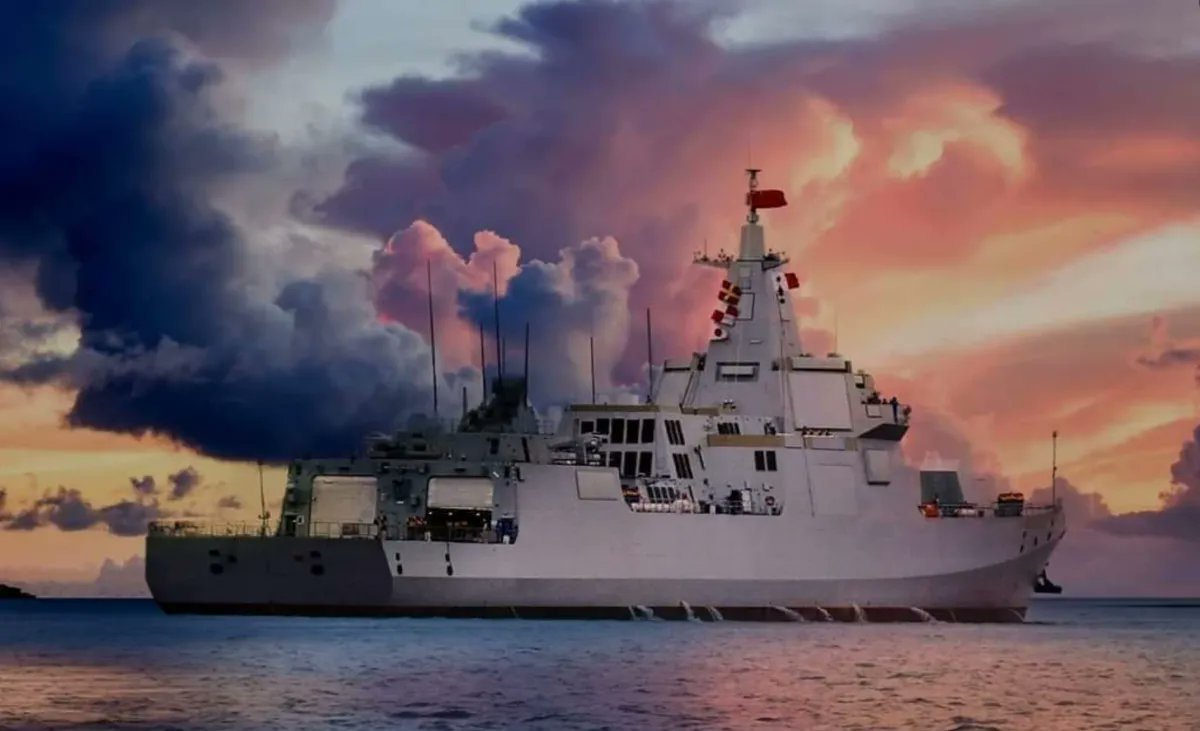 An April video circulating on social media highlighted the lethality of the Type 055. It showed a Type 055 ship launching what would have been a YJ-21 hypersonic anti-ship ballistic missile, also known as the " aircraft carrier killer.
PLAN's Type 055 destroyers have become a mainstay of the Chinese Navy, known for being the largest in the world by fleet size.
The Type-055 class is China's answer to the US Navy's AEGIS cruisers. They play a crucial role in protecting Chinese aircraft carriers, as they are large and heavily armed, EurAsian Times observed in an earlier report.