Beatrice Veterans Memorial Park, Hosts Nine-Eleven Celebration
BEATRICE – The citizens of Beatrice gathered to hear a first respondent's perspective on the 20th anniversary of the September 11 attacks, which sparked a war on terrorism.
The Veterans Memorial Park was the scene of a ceremony on Saturday morning, attended by veterans, police officers and firefighters. The head of Beatrice Fire and Rescue gave the address.
"As the 20th anniversary of one of America's darkest days approaches, it's also time to reflect on the world's greatest nation, which is occupied by the greatest people on earth. United are this shining lighthouse at the top of the hill. For those who occupy fire stations, police stations, military bases, schools, grocery stores, town halls … they should all be proud of the society in which we live and the role we play in the United States is tremendous. We honor the sacrifices of those who have gone before us … to never forget … knowing that when we will be faced with that moment to do the right thing , we will prove our worth. "
Beatrice Fire and Rescue Chief Brian Daake recalled the shocked expressions of his service members on the day the New York Twin Towers were shot down … the Pentagon attack … and the crash of Flight 93 in Pennsylvania.
Half-length flag raising at Veterans Memorial Park
Daake said he didn't personally know the firefighters, police and rescue personnel who rushed to the Twin Towers that day… all have something in common… a brotherhood.
"While it was a most tragic day in our history, it also showed what true Americanism really is. There were a lot of heroes that day… felt like a firefighter or a New York City police officer, watching the towers on fire, knowing that this might be your last act, on earth. gear … encouraging those who were able to save themselves, to do so. climb the stairs with your crew to help those who could never help themselves. They came in, not to be heroes …. but because they were there to serve their community and help those who were 'they could save. "
The nine-to-eleven ceremony was hosted by the Gage County Veterans Office, Duty Officer Scott Bates, Beatrice Area Chamber of Commerce and led by United States Marine Corps Veteran, Tim Fralin… a Beatrice city councilor. Fralin urged people to spread hatred everywhere… it's time to come together.
"Let's go back to where we were twenty years ago. It's a great community. We have the greatest people on earth, here in this community. Let us all be united, to be one."
Pastor Suzanne How speaking on Remembrance Day blesses US firefighters, police and military "who run into danger to keep innocent and vulnerable people safe."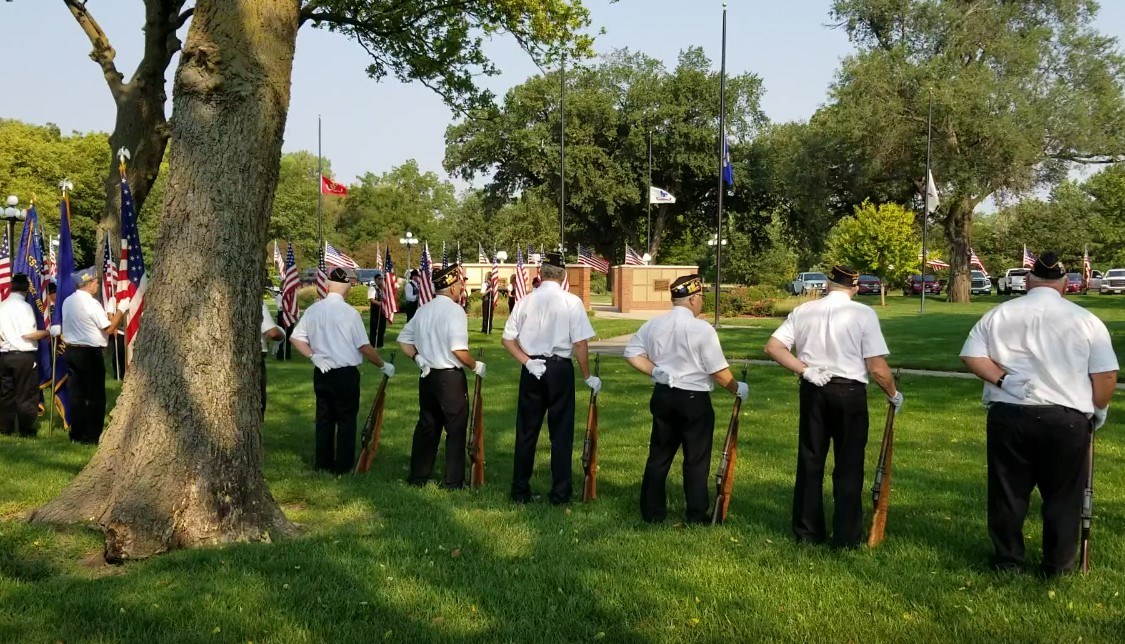 Gage County Veterans at Veterans Memorial Park