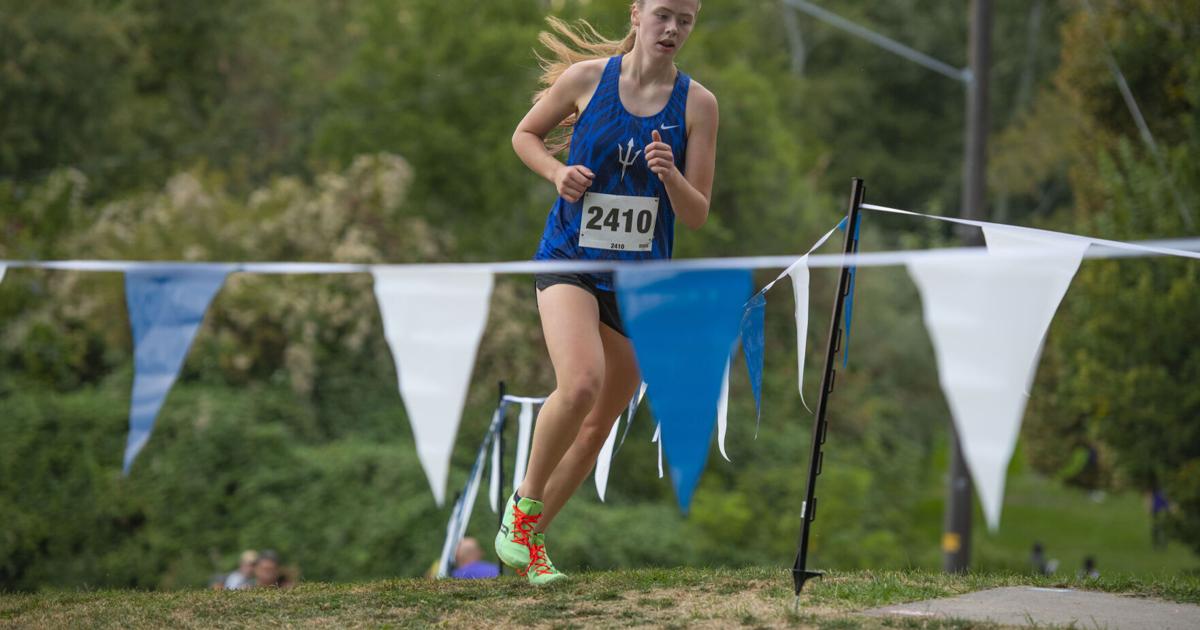 Blue Devils trio to declare after District 8 meet at Veterans Memorial | High school sports
Three runners from Walla Walla High will qualify for next Saturday's Washington State cross country meet after the District 8 Championships at Veterans Memorial Golf Course on Saturday, October 29.
The meet featured runners from the Mid-Columbia Conference and the Greater Spokane League.
Emmalyne Jimenez, Brody Hartley and Ian Lash are now heading to Sun Willows Golf Course in Pasco on Saturday for state races.
"Boys and girls ran with a lot of heart today," said Blue Devils coach Michael Locati. "We knew going in that we were looking for one of three reportable spots on the boys and girls side. just didn't. We only had from internet time and what we knew about some of the courses.
"Ultimately, the Spokane school was just too deep," he said. "But boy, did our kids compete. We had to deal with a lot of different circumstances over the year, but they didn't give up and kept pushing through it all. I'm really proud of them. They're such a great group of kids, so fun to coach this year."
The top three teams and 21 individuals qualified for the state.
On the girls side, Mt. Spokane took the top honors winning the District 8 title, followed by Mead and Cheney. Wa-Hi placed sixth, but was the top MCC team.
Individually, Jimenez placed seventh to punch her ticket to the state meet for the second straight year.
"Emmalyne had the best run of her career today with a PR of 21 seconds in 19:27 over the 5 kilometer course," Locati said. "She ran such a smart race. She was somewhere around 15th after the first mile and then did what she always does and had a great race in the second half. Emmalyne was the better runner MCC for the day."
The 3A girls race was won by Charlotte Pederson of Mt. Spokane in 18:19 (setting a new course record, which was then broken in the 4A race by Nicole Bissell of Central Valley in 18:14).
The other Blue Devil girls were Miriam Hutchens 30th in 9:22 p.m., Stella Billingsley 35th in 9:41 p.m., Macy Eggart 36th in 9:41 p.m., Ada Velluzzi 40th in 9:45 p.m. and Carly Newton 66th in 24:07.
"I was thrilled with how the girls ran together and helped each other out today," Locati said. "Stella and Ada have both broken season or personal bests. We only lose one girl in college, they have a bright future ahead of them."
On the boys' side, Mt. Spokane again took top honors, with Mead and Cheney rounding out the state qualifying teams. Walla Walla placed fourth and was again the top team in MCC.
"Brody ran the course in 15:23, beating the nearest competitor by almost 30 seconds to claim the District 8 title," Locati said. "Brody took the lead early and had a small gap but after the second mile he closed really well and doubled his lead. He's been running really well right now considering the short season he's had. I think he also runs like he always has and at the right time.
"In his first cross country season, Ian Lash is the surprise of the team," he said. "Ian was 12th in 16:28 after only his third race of the year. Ian got into a great position in the first mile and then was able to come back up and hit his ticket to state. He had the looked really strong the whole race."
The other Wa-Hi boys were Turner VanSlyke 32nd in 5:20 p.m., Liam Bergevin 36th in 5:28 p.m., Lincoln James 50th in 6:02 p.m., Gabe Coram 51st in 6:04 p.m. and Jakob Sullivan 62nd in 6:35 p.m.
"Ian, Turner, Lincoln and Jakob all broke personal bests today," Locati said. "Liam, who is coming back from a foot injury, had a really good day today and it was good for him to finish on a high note.
"We say goodbye to our seniors Emmalyne Jimenez, Brody Hartley, Liam Bergevin, Tas Grimm and Marcus Christopher, all of whom ran college for us this year," Locati said. "They have been great leaders in the team and they will be missed."