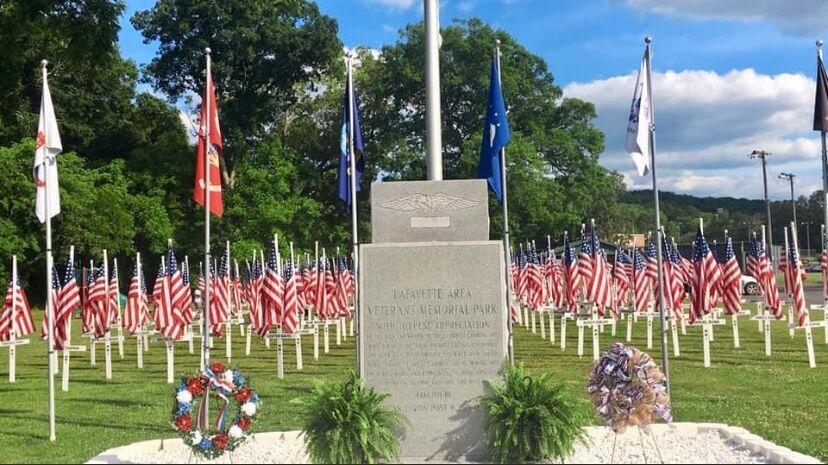 Dedication of flags and crosses at LaFayette Veterans Memorial Park | Georgia News
On Remembrance Day, May 31, at 5 p.m., the LaFayette Woman's Club and LaFayette American Legion Post 339 dedicated the new flags and crosses at Veterans Memorial Park at the entrance to the LaFayette Recreation Center.
Thanks to generous community donors, over 200 new American flags were purchased and displayed in the park. The 200 crosses, bearing the names of the missing, were replaced, repaired, improved and exhibited during the ceremony.
The flags and crosses will be on display each year at the LaFayette Recreation Center Veterans Memorial Park on Veterans Day, Remembrance Day, Flag Day, Independence Day and Labor Day.
Flags and crosses were previously displayed in Joe Stock Park.
LaFayette American Legion Station 339 commander Richard Westbrook said the new site was appropriate.
"This part of the recreation center already housed a memorial to the veterans," he said. "Now it will also serve to honor the citizens of Walker County who served and fought for our country."
The LaFayette Woman's Club is honored to be a part of this lasting tribute to the men and women who have served our country.
"Our club has always supported our veterans. They are one of our primary tenants as a club, and we are honored to help keep their memory alive for future generations, "said Cecilia Westbrook, President of Civic Engagement and Outreach for LaFayette Woman's Club.
City and County officials, Gold Star Families, LaFayette High School, LaFayette Woman's Club, LaFayette American Legion, Flags and Crosses Sponsors and over 100 community members attended the dedication.