Fort Hood Career Fair Attracts 200 Employers and 1,800 Job Seekers | Item
FORT HOOD, Texas – Soldiers, family and community members came in droves as the Transition Assistance Program hosted their in-person Mega Career Fair here for the first time since January 2020, just before COVID- 19 hits the world on September 14th.
"Given current events and the mask's tenure, we were pleased with the turnout," said Jerry Hernandez, Marketing Supervisor for Fort Hood TAP. "Employers expressed satisfaction with the attendees who attended the career fair, noting that they were able to meet many qualified candidates and appreciated the extra time to chat with each candidate.
An estimated 1,800 job seekers attended the event to speak with the 200 employers looking to hire military veterans and their families. The purpose of the TAP office is to prepare military personnel for their transition from military to civilian life, where the Mega Career Fair comes into play.
Since COVID, the TAP office has tried offering the same service virtually through a virtual mega-job fair, but Hernandez said there was a great demand from employers and job seekers to return in person.
"It's so much better to talk to people face to face and have that interaction," Jerilyn White, human resources manager at General Dynamics, said of in-person or virtual job fairs.
General Dynamics was at the Mega Career Fair to hire federal contract positions working on Abrams tanks, some of which Fort Hood soldiers have a lot of experience with. White said the company is sending teams around the world to help support military units.
Perhaps the most common career area at the Mega Career Fair was law enforcement. While most police departments were local or state, the Phoenix Police Department in Phoenix, Arizona was also present. The English Quals officer said the Phoenix PD decided to start attending career fairs at military facilities because the police and the military share the same kinds of qualities.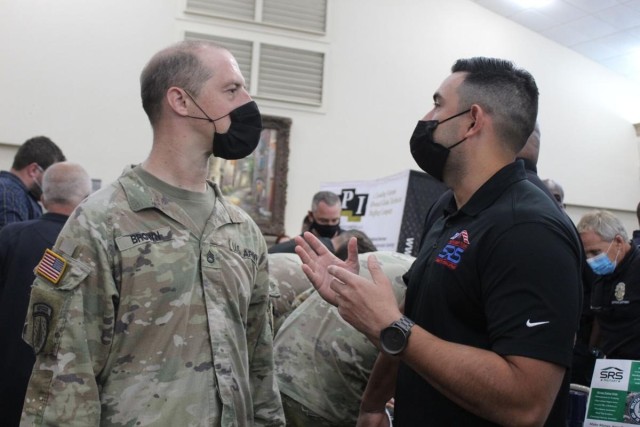 "Military men and women have the qualities we need to represent our agency," she said. "We absolutely want someone who has good discipline, integrity – he's # 1 in this job – and a good work ethic."
Quals said many police departments are made up of veterans, so the departments know they can't really go wrong with participating. She added that the turnout for the event was higher than she had expected. Within the first hour after the gates opened, she said she had spoken with more than 100 soldiers.
Sgt. 1st Class Maxon Tom, 115th Brigade Support Battalion, 1st Brigade Combat Team, 1st Cavalry Division, said the Mega Career Fair was great and that he already had multiple interests during the short time he was in. the. Tom, who will be retiring soon, has taken TAP training and is looking for a career in HR or security.
Meanwhile, Spc. Keisha Smith, 15th Military Intelligence Battalion, 504th Expeditionary MI Bde., Seeks to transition from a diesel mechanic to an aviation mechanic. She said she liked to see the variety of career fields available. She also liked the fact that some companies offer training for those looking to change careers when they leave the military.
One of the companies that debuted at Tuesday's Mega Career Fair was InspiriTec, an AbilityOne company hiring people with disabilities. About 80% of the company's current employees are disabled veterans. Wayne Koonce, InspiriTec's hiring manager, said the company is expanding in Texas and will hire 50 to 75 people. He said applicants must have a disability, medical disadvantage or chronic illness. They must also be able to obtain a secret security clearance. The positions are for call center service and Koonce said they provide everything employees need to make their working conditions comfortable.
"We make sure everything is in place for our employees to be successful," he added.
Hernandez said the next Mega Career Fair will be held in Fort Hood on January 11.