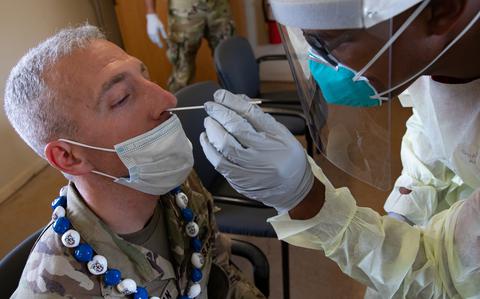 Hawaii Army ends hands-off approach to checking IDs at base gates
A soldier from Schofield Barracks, Hawaii, is tested for COVID-19 during ongoing treatment for the 2021 U.S. Army Medical Command Top Chef competition on July 24, 2021. (Antonio Lewis/US Army)
FORT SHAFTER, Hawaii — The military in Hawaii is once again requiring anyone entering its facilities to physically hand over their ID card to gate guards for authentication, a change in procedure that has seemed unwise to some as the state is experiencing a dramatic increase in coronavirus cases.
A hands-off procedure – whereby visitors displayed but kept their IDs – was implemented when the pandemic hit in March 2020 amid fears the coronavirus could be spread by gate guards handling hundreds of ID cards every morning.
The new procedure went into effect Monday, a day after Army Garrison Hawaii announced the change on its Facebook page, where it was met with skepticism by some.
"I'm sorry, but this is absolutely ridiculous," commentator Courtney Michelle Edens wrote on Monday. "Lack of all common sense. Are we trying to spread covid further? That's all it helps. Also, you can scan and see my card without getting your hands on it after touching God knows how many other people's ID cards.
For most of the pandemic, visitors arriving at Fort Shafter, Schofield Barracks and Wheeler Army Airfield routinely held their ID cards at arm's length through an open window, with guards sometimes asking them to turn the cards over to see Both sides.
Gate guards at Fort Shafter this week grabbed common access cards from visitors while wearing latex gloves, scanned barcodes and returned them.
"There have been incidents at various gates necessitating the return to physical card handling, despite the pandemic," Hawaii Army Garrison spokesman Michael Donnelly told Stars and Stripes on Wednesday. . He said he could not discuss specific incidents for operational security reasons.
"With the return to the original standard, our guards are all wearing protective gloves and disinfecting themselves frequently in a shift to do everything possible to remain COVID-19 compliant and ensure the safety and health of those who come into the facilities," Donnelly said.
COVID-19 is the respiratory disease caused by the coronavirus, which is mainly spread when an infected person expels small liquid particles into the air by coughing, sneezing, talking, singing or breathing, according to the Organization. global health. "People can also become infected by touching their eyes, nose or mouth after touching surfaces or objects that have been contaminated with the virus," according to a fact sheet on the WHO website.
Like most US states, Hawaii has seen a dramatic increase in coronavirus cases due to the highly transmissible omicron variant. As of Wednesday, the state had recorded 45,328 new infections over the past 14 days.
Approximately 75% of Hawaii's population is fully immunized.