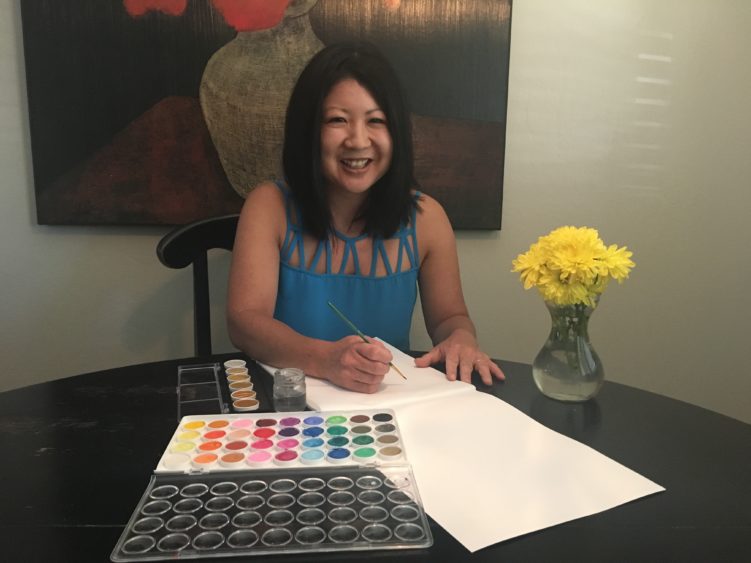 How this entrepreneur turned a modern calligraphy skill into a booming side business
Lori Shen is the founder of Letter on!, a modern calligraphy and design company specializing in Hawaiian designs. Letter on! sells a variety of products, from greeting cards and prints to rubber stamps. The company also offers custom design services for items such as welcome signs, place cards, envelopes and chalkboard signs. Shen attributes his entrepreneurial spirit to his family. "I am the product of two small business owners. My parents started an orchid nursery in Waimanalo, Hawaii the year before I was born and still run it today, "she said. "I grew up watching them navigate the ups and downs of running a small business, but I've never fully appreciated all the challenges they've faced so far. "
From fun hobby to lucrative side bustle
I worked in public relations for about 15 years. Two years ago, I became a mom for the first time. I took a modern calligraphy workshop on a whim. At the time, it was something that I continued in my personal time. I just did it for fun. The more I did, the better I got. I started to design things and give them as gifts. I had a lot of feedback from friends who told me that I might want to open my own store.
I launched Letter On! as an outlet for myself. I was looking for a way to earn some extra money to help cover household expenses. The layers add up! It's a side activity, but it's also a way for me to express myself and connect with others. I had no idea what kind of welcome he would receive, so it was so gratifying to see him resonate with so many people.
Corporate finance management
I completely started the business. To open an Etsy store, the cost is minimal. I don't have a lot of inventory at one time to keep costs down. At first, I was doing everything to order, so I didn't have to invest a lot of upstream hardware.
I use my personal credit card to business expenses That much. I have an Amazon Rewards Card and order a lot of my supplies from Amazon. I have a budget and I stick to it. I have also downloaded apps like Harvest for keep an eye on cash flow.
Business challenges and rewards
One of my biggest challenges has been to digitize my work. I learned calligraphy with brush and ink, but it didn't take long for orders for wedding signs to pour in – I opened my shop just in time for wedding season. So before I knew it, I needed to operate digitally to meet customer wishes and speed up my workflow. So I had to learn digital imaging applications myself. I remember that my first project took me so many long nights. I have watched countless YouTube videos to learn how to digitize my intricate calligraphy.
The biggest reward for me is definitely the feedback I get from customers. It's great to connect with others and to see my designs resonate with people. I recently received a review on Etsy from a woman who purchased my "I wash you"card. This is a special phrase she shares with her husband. She surprised him with the card and he loved it. Stories like that fill my heart!"
Business lessons learned
I am a first entrepreneur. I've always worked for others, whether it's big billionaire companies or startups. Being an entrepreneur has really complemented my business skills. I learn all aspects of running a business.
For example, I learned so much about shipping. Shipping was a whole foreign world to me. Initially, I did not charge the full cost of shipping small items to my customers. Obviously, I couldn't take this very long. But then I looked for other sellers to understand their shipping operation. I got smart. I started selling card packs so customers could get more for the same shipping cost and learned to pack smarter. In my parents' orchid business, they had many challenges in streamlining their shipping process out of Hawaii. So our conversations became much more meaningful as I connect with them on a whole new level!
Something smart that I did at the beginning was to focus on my brand. When I started my shop, I listed all the models I had made. But I soon discovered that my bestsellers were the ones designed with my Hawaiian touch. This is what makes my products unique and different from what you can find in other stores. I was quick to cut out the rest to focus on my Hawaiian line.
Advice for new entrepreneurs
Give yourself the space to learn and grow. It's so easy to get carried away on a daily basis, so I try to set aside at least an hour a week to work on myself. I'm either trying to learn a new skill – I always watch YouTube tutorials! – or establish a new connection. I have met a lot of fellow creators on Etsy and Instagram. The connections have been invaluable, leading to new business opportunities.
What's next for Letter On!
"She Lives Aloha Every Day" was the first print I designed. I design for people who live this intention and look forward to continuing to connect with people who aspire to this lifestyle.
class = "blarg">