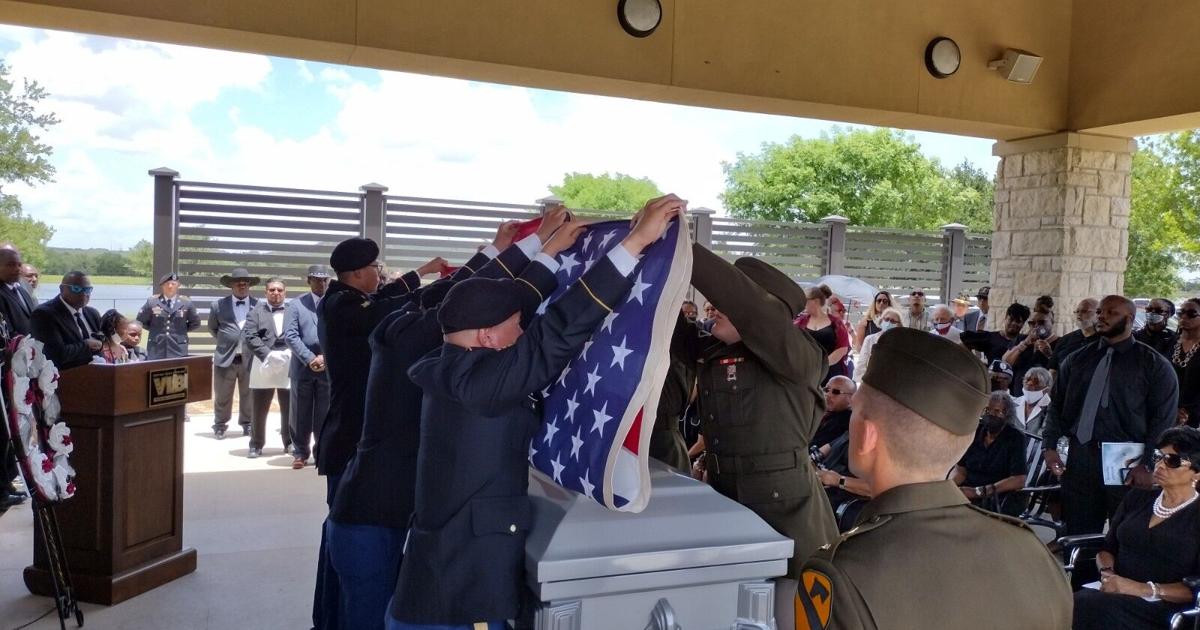 Hundreds Attend Burial of Veterans Advocate Eddie Bell Sr. | Military
COPPERAS COVE — About 300 people attended services Wednesday for the retired Army 1st Sgt. Eddie Bell Sr., longtime Copperas Cove resident and veterans advocate who has supported many veterans organizations.
At the time of his death on May 25, Bell was president of the Korean War Veterans Association of the Department of Texas and national director of the KWVA.
Many of the organizations Bell attended read proclamations at the service, talking about the importance he had had to their organization and the integral part he had been in the lives of so many. Copperas Cove Mayor Dan Yancey also proclaimed June 1st 1st Sgt. (Ret.) Eddie Lee Bell Sr. Day at Copperas Cove.
"When I was president of the Women's Army Corps, he was the first to say, we need to make sure you all know your service matters," the retired sergeant said. 1st Class Adrienne Evans-Quickley, a member of the Women's Army Corps Veterans Association Genevieve Chapter and KWVA. "He bridged that gap between us and some of the other organizations. He went to AVAC (Area Veterans Advisory Committee) and said, how long do they have to be here before we let them know they're part of us? We served together, they always served together. We will always remember that.
"These are the things that made Eddie Bell the community leader we knew."
Evans-Quickley said she served in Germany at the same time as Bell and the late retired command sergeant. Major Elijah King, who all ended up retiring from Fort Hood and staying in the area.
One of the lasting legacies Bell will leave behind is a burial fund he created to ensure that no veteran whose family could not afford a funeral would go without, he said. she declared.
"When Willie Browning passed away, someone who gave so much to this community, he started what we call the burial fund through the Korean War Veterans Association," Evans said. -Quickly. "This burial fund has gone to take care of many families and many veterans who could not have been buried because when they lose the soldier many of them lose their main source of income. Mr. Bell solved that. He's the Eddie Bell I know. He is the person who, there was no task too big.
Browning was a former Army captain who helped more than 100,000 veterans in the Fort Hood area with their Department of Veterans Affairs disability claims.
"I got the proclamation from our mayor because he was a long-time resident of Copperas Cove and was an integral part of many veterans organizations," said Cove Councilwoman Joann Courtland, who is also director of the nonprofit Operation Stand Down-Central Texas, which helps homeless veterans. "He was a very big supporter of us (OSDCT) and has been for many years since we first met him at our Area Veterans Advisory Committee. He was always there if we needed him for anything.
Courtland said Bell was a true servant leader who believed in and cared about those around him.
"I remember one of the first big things was when Willie Browning passed away and the family was having trouble with the burial, so Operation Stand Down stepped up and provided funeral donations," he said. she stated. "And that's when he wanted to try to set up a veterans funeral fund to make sure no veterans could be buried because of the lack of funding. If he told you 'I'm going to do it', he was a man of his word, 100%.
After the service at Bible Way Missionary Baptist Church in Cove, Bell was buried with full military honors at Central Texas State Veterans Cemetery in Killeen. Military honors were provided by the 1st Cavalry Division Honor Team.