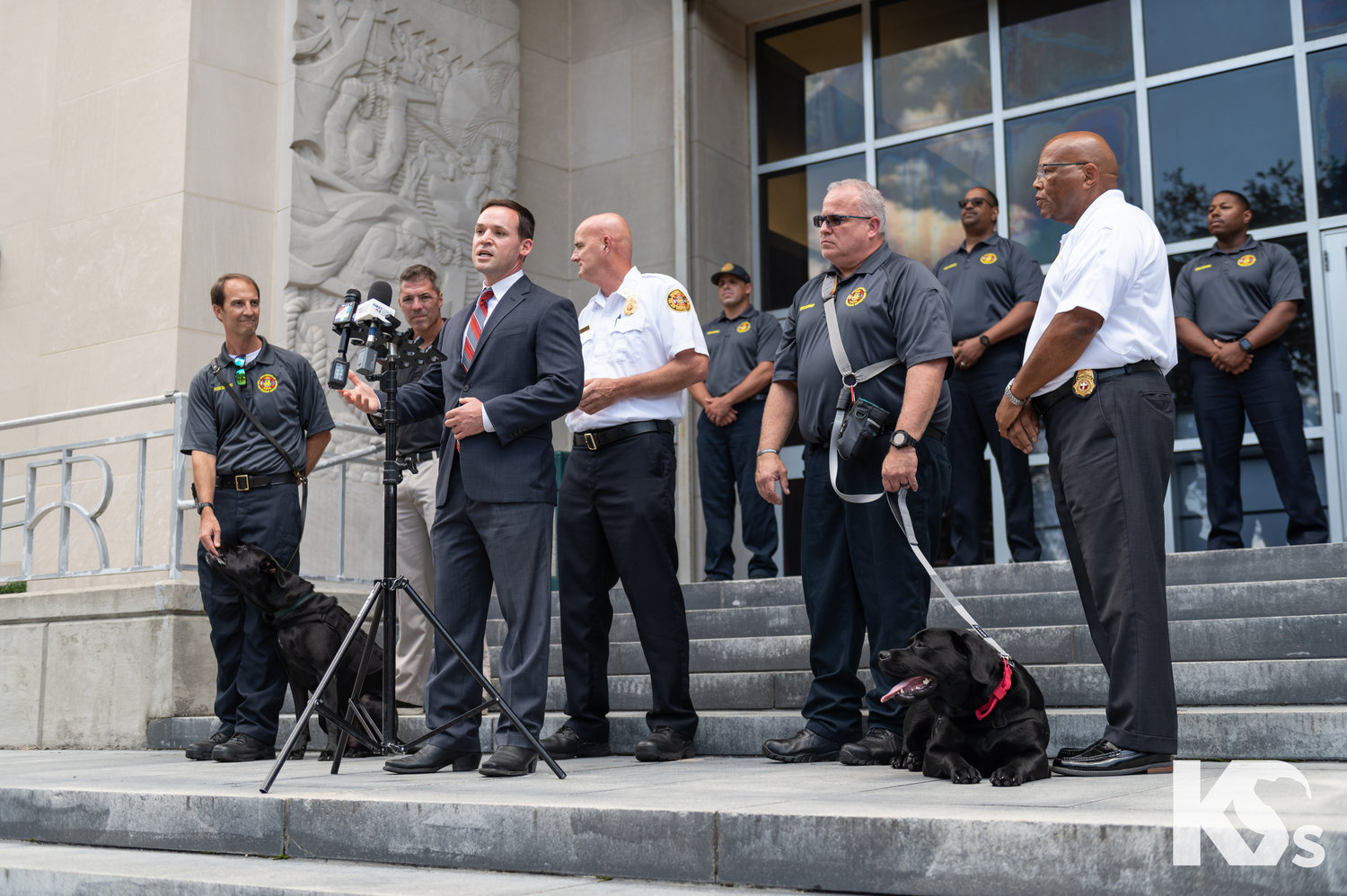 K9s For Warriors donates therapy dogs to Jacksonville Fire and Rescue Department
K9s For Warriors, the nation's largest provider of trained service dogs for military veterans, recently announced the donation of two therapy dogs, Gunner and Cash, to the Jacksonville Fire and Rescue Department as part of its Station Dog program.
As part of its mission, K9s For Warriors partners with law enforcement and first aid agencies to provide reliable, high quality K9s that provide emotional support to law enforcement officers, firefighters , dispatchers, victims, and others repeatedly exposed to traumatic events in the line of conduct.
Both Black Labs, Gunner and Cash, are American Kennel Club recognized therapy dogs. They become respectively the 15th and 16th dogs to be adopted through the K9s For Warriors' Station Dog program.
Station dogs alleviate the emotional stress common in this line of public service. Station dogs are made up of retired service dogs or dogs that have received extensive training from professional trainers but were not quite cut out to be service dogs.
These dogs are not diverted from any military veteran of the K9s For Warriors program, and departments receiving these station dogs receive them free of charge. The K9s For Warriors Station Dog program is an American Kennel Club recognized therapy dog ​​program.
"First responders are routinely exposed to traumatic events and stressors that have a similar impact to what our veterans experience on a daily basis," said Rory Diamond, CEO of K9s For Warriors. "The primary goal of our Station Dog program is to help alleviate stress and improve emotional well-being through the level of companionship these dogs provide. We couldn't be more thrilled that Station Dogs Gunner and Cash are working alongside members of the JFRD Peer Support Team to do just that for our local heroes.
JFRD's Peer Support Team provides first responders with resources to help them better manage the traumas and stressors they experience on the job. The gunner joins position no. 52 at 6130 Collins Road, and Cash joins station no. 71 at 325 2nd Ave. S. where they will be involved in their station's peer support team.
"When our firefighters have gone to a bad scene or are struggling with job-related stress, Gunner and Cash provide solace and companionship," said JFRD Fire Chief Keith Powers. "They have the ability to feel the distress, to reach out to these people, to help them relax and get over this stress. They are a very important part of our department.