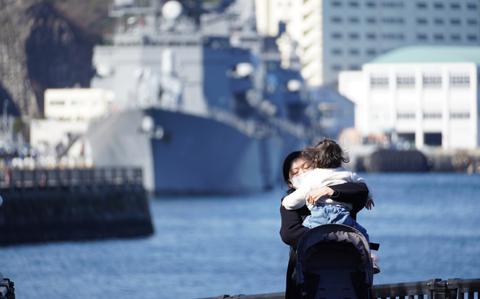 More mask mandates fall at US bases in Japan as COVID-19 cases drop
TOKYO — Masks were removed at other U.S. military installations across Japan on Tuesday, a day after the top U.S. military authority approved easing that part of pandemic life.
Misawa Air Base in northeastern Japan, Sasebo Naval Base on the southern island of Kyushu and Yokosuka Naval Base, the home port of the US 7th Fleet south of Tokyo, have updated their public health orders to reflect that masks are no longer required at these facilities, indoors or outdoors, regardless of an individual's vaccination status.
Yokota Air Base in western Tokyo and Kadena Air Base and Marine Corps bases in Okinawa lowered their mask requirements on Monday.
Certain exceptions apply, including medical and dental facilities and Air Mobility Command terminals. Tenant organizations may require masks inside their facilities. Yokosuka, for example, requires masks in children's and youth programs.
Most commandments have also warned against harassment of people choosing or required to wear masks.
Some people are required to wear a mask because they have contracted COVID-19, been exposed to someone with the disease, or have symptoms. Others may be immunocompromised or simply choose to wear a mask.
Masks are mandatory off-base for everyone in Japan under the status of forces agreement, according to an order updated Monday by U.S. Forces Japan.
The USFJ lowered the mask requirement because the rate of new COVID-19 cases and hospitalizations fell to a community level considered low or medium by the Centers for Disease Control and Prevention, according to an order release. emailed to Stars and Stripes on Monday.
New COVID-19 cases in Tokyo fell to 4,836 on Monday, the lowest one-day count since 4,172 on Jan. 16. On Tuesday, the city reported that 7,836 people had tested positive for the virus, according to public broadcaster NHK.
Japan reported 32,359 new COVID-19 infections on Monday, the lowest since 37,002 on March 7, according to the Johns Hopkins Coronavirus Resource Center. Another 116 people died of complications from the disease on Monday.
The USFJ reported 73 new cases of COVID-19 Monday at 13 facilities in the past 24 hours. The command last reported 99 infections on Thursday. None of these cases are considered serious or are hospitalized.
Marine Corps Air Station Iwakuni had 13 in Monday's update. Separately, the air station in two press releases this week reported 33 new cases between Friday and Monday.
Naval Base Yokosuka had 12 in Monday's USFJ update. Misawa Air Base had nine.
Kadena Air Base, which dropped its mask mandate with few exceptions on Monday, reported 114 total cases there, according to an update on its website the same day.
Okinawa Prefecture, where Kadena and the bulk of III Marine Expeditionary Force are located, reported 832 new cases Monday and Tuesday, along with 52 among the island's U.S. military population, according to the prefectural public health department and medical care.
Stars and Stripes reporter Mari Higa contributed to this report.