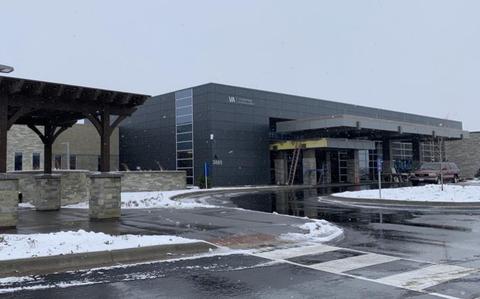 New $31M VA Clinic Set to Open in Montana with Significantly Expanded Services
The David J. Thatcher VA Clinic in Missoula, Montana is shown in an undated photo. The clinic is named after World War II veteran David J. Thatcher, a longtime Montana resident who participated in the famous Doolittle Raid on Tokyo during World War II. (Facebook)
(Tribune News Service) – David J. Thatcher, a longtime resident of Missoula, Montana, who took part in the famous Doolittle raid on Tokyo during World War II, would be proud of his new namesake.
He died in 2016 at the age of 96, but on Friday more than 200 people gathered to dedicate the new David J. Thatcher Veterans Clinic in Missoula, which will serve more than 5,000 area veterans.
The new 56,727 square foot community outpatient clinic cost $31 million and is three times the size of the cramped old VA clinic. It will be able to accommodate up to 9,000 patients in the years to come. It should create more than 110 full-time jobs.
Now veterans can get a full range of services, including physiotherapy, radiology, addictions counseling and outpatient mental health services in a one-stop shop rather than having to book an appointment and walk in. at other providers.
"We're actually increasing the number of veterans we can see because we now have offices to support new staff, which is exciting," said Paul Harman, associate chief of staff for mental health. "We have a full range of mental health services here and we have housing programs here. We work with people who need housing or things like that."
Other services that are now under one roof include disability benefits, sleep therapy, pharmacy, dietitian, primary care and social workers. Staff at the new clinic are specially trained to care for women, as this is the fastest growing part of their clientele. And they offer free transportation to and from the clinic for any veteran who needs it, as well as a full range of telehealth services when a client needs to see a specialist who doesn't have an office in the clinic. .
The clinic opens its doors to clients on Tuesday, February 1. The grand opening ceremony featured a full guard of honor, a Native American drum circle, and a speech from Thatcher's son-in-law.
US Senator Jon Tester, Chairman of the US Senate Veterans Affairs Committee, was present for the inauguration.
"For too long, veterans in western Montana have had to settle for an undersized clinic that made it difficult for dedicated VA staff to provide quality care, but after today, I'm proud to finally say 'nothing more,'" Tester said. . "This new location will ensure that doctors, nurses and other hard-working medical personnel have the extra space to do their jobs and provide state-of-the-art health care to thousands of veterans in the region."
Representatives of U.S. Senator Steve Daines and U.S. Representative Matt Rosendale read letters on their behalf to welcome the new facility.
Montana has one of the highest per capita military veteran populations in the United States, about 9.4% in 2017. There were 96,369 total veterans in Montana that year, with 73 000 eligible for VA health services and only 47,000 of those enrolled with the VA health care system.
Dr. Judy Hayman, executive director of the Montana VA Health System, said it was an incredible achievement to have the building constructed and staffed during a pandemic.
"Many families in Montana have had to celebrate the holiday season past with the weight of the loss of their loved ones," she said. "We have all overcome so many challenges to get to today. But today is such a wonderful occasion and marks a day of triumph and celebration."
Tony Incashola, a Vietnam veteran and elder of the Confederated Salish and Kootenai tribes, offered a prayer to close the ceremony.
"This country owes so much to these veterans, these people who gave their lives for the hopes and dreams of our children and grandchildren," he said.
___
(c)2022 Ravalli Republic, Hamilton, Mont.
Visit Ravalli Republic, Hamilton, Mt. at http://www.ravalinenews.com
Distributed by Tribune Content Agency, LLC.