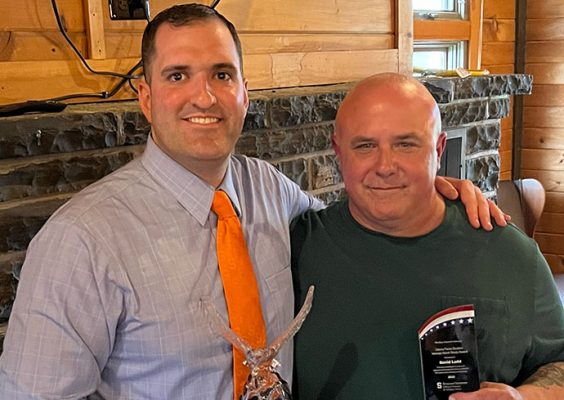 OVMA Announces 2022 Awards Celebrating Veteran Student Achievements
The Student Veterans Organization (SVO) and the Office of Veterans Affairs and Military Affairs (OVMA) presented two awards to student veterans in honor of their significant and distinguished achievements. The awards were handed out at SVO's social event held at the Inn Complete on South Campus on May 6.
Veteran student of the year
The OVMA is proud of the involvement of student-veterans on campus, in the community and at various events on and off campus. Each year, the OVMA Student Veteran of the Year is awarded to a student who has gone above and beyond, with contributions on and off campus, to make Syracuse University "the best place for veterans." This year's recipient, Ryan Marquette L'22, a U.S. Army veteran and active member of the Army National Guard, has set a new precedent for success for a veteran student.
Marquette was a veteran law school student while simultaneously pursuing a master's degree in public administration at the Maxwell School of Citizenship and Public Affairs. While both of these endeavors took time, Marquette took the time to encourage each of her veteran classmates to get involved in veteran duties on campus and in the community. Through these efforts, Marquette volunteered for the D'Aniello Institute for Veterans and Military Families, which incorporated him as a guest speaker at a Fort Drum Onward the Opportunity graduation. .
During the height of COVID-19 in 2020, Marquette had to juggle school and his active role as a member of the National Guard as he responded to the pandemic in New York State. His efforts led to the distribution of 147,809 COVID tests, 36,661 meals and 507 medical supply deliveries across the state. Off-campus, he runs the Leader-Scholar Scholarship in Rome, New York, where a student receives a scholarship for their leadership efforts throughout their high school career and their volunteer work in their community. The scholarship is named after Marquette's friend, Captain John Levulis, who lost his life in a military training accident.
Marquette was chair of the Operation Veteran Advocacy group at the College of Law and a member of the executive board of the Syracuse Law Review. His list of college accomplishments includes receiving the Veteran Student Organization's 2021 Best for Vets Award and was the first-ever law school named to the Syracuse University Board of Trustees from 2021-22, between other contributions to the community. The OVMA congratulates Ryan on adding another achievement to his long list as this year's Veteran Student of the Year.
Danny Facto Veteran Student Co-op Scholarship
The Danny Facto Student Veteran Work-Study Award, named after Danny Facto, the University's first Veteran Work-Study (VA) participant, recognizes a VA student veteran who reflects the values ​​Danny has adopted during his stay on the hill. Danny was a great ambassador for his fellow student veterans and through unwavering commitment made a huge impact on those around him during his life. This year's recipient, David Ladd '23, exemplifies the values ​​set forth by Danny. As described by his nominator, David has the passion, commitment and ability to get things done. These qualities are the same ones used to describe Danny.
During his work-study with Veteran Career Services (VCS), Ladd made notable contributions to OVMA Connect, a mentorship app connecting veteran students with veteran students, alumni, faculty and staff and partners at the University of Syracuse. His efforts increased engagement on the platform and increased the number of users by almost 250%. Ladd has also made notable contributions to VMock, a resume assessment platform recently launched at the University for veteran students. As a VCS VA Work-Study, Ladd's contributions paved the way for improving experiences for veteran students and military-related students at the University. In addition to Ladd's efforts to improve technologies for student veterans seeking career services, he has also provided OVMA leadership with reports that help measure the impact of VCS's efforts. David has fully embodied this award and, in blazing his trail, has had an everlasting impact.
"We recognize these students, and the entire veteran student body at Syracuse University, with great pride and admiration," said OVMA Executive Director Col. (Retired) Ron Novack. "These awards prove how much student veterans bring strength, leadership, honor and character to our university community.