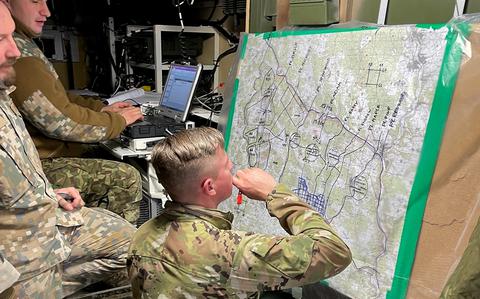 Specialized US Army unit helps Russia's neighbors train against large-scale attacks
HOHENFELS, Germany — If Latvia's small active army brigade were ever attacked by Russian forces, its task would be to keep them on their heels while staying alive long enough for the allies to send in reinforcements, said the brigade commander.
"It's not like 1945, when we were alone," Colonel Sandris Gaugers said, referring to a time when his country was under Soviet occupation and lacked the protection that comes with NATO membership. .
Now, a new U.S. military mission in Europe is helping Latvian militaries and other countries worried about Russian aggression prepare for their own worst-case scenarios.
The 4th Security Force Assistance Brigade, which was created to support a broader Army shift in how the service partners with other militaries around the world, has sent its first advisers to Europe in October.
"The relevance of this organization in the current security climate in Europe is evident," said Colonel Robert Born, commander of the 4th SFAB based at Fort Carson, Colorado.
A buildup of around 130,000 Russian troops and advanced weaponry near Ukraine's northern, eastern and southern borders is fueling fears of another war on the continent.
In Latvia, Georgia, North Macedonia, Poland and Romania, specially trained American soldiers are the first in an ongoing series of six-month rotations.
The goal is for U.S. advisers to develop a deeper connection with foreign military personnel than they would through conventional training methods, which tend to be more episodic. The SFAB contingent works with Latvians in their own country.
"It's about having (American soldiers) literally integrated. It speeds up the process," Gaugers said in an interview earlier this month. in Hohenfels, where his troops played a major role in the US Army's recent Allied Spirit exercise.
Gaugers said the 22 SFAB soldiers embedded in his unit were helping in two key areas: improving artillery fire tactics and collaborating on a strategy to ensure forces can stay supplied in the event of an attack. large scale.
"How do you protect (supply lines)? This is where we need to know more," Gaugers said.
The first rotation of US troops from the 4th Security Force Assistance Brigade in Europe comes as tensions continue to escalate between Russia and the West over Moscow's military buildup around Ukraine.
The army's first SFAB unit was formed in 2018 to help in Afghanistan, and more have been set up in the years since, aligned with other parts of the world. However, SFAB soldiers in Europe are associated with more advanced armies, given a shared connection with NATO.
That means paying more attention to the kind of high-end combat skills needed against an adversary like Russia, which has the capability to attack by land, sea, and air, as well as in cyberspace.
Latvia, a small Baltic country, is far outnumbered by neighboring Russia. Many security analysts have long considered the region NATO's most vulnerable, given Russia's geographical and military advantage.
For Latvian forces, countering a possible Russian attack would depend on their ability to disperse their forces, fire on the move, and ensure that ammunition and other supplies could reach the troops undetected.
Any wider defense of Latvia would also depend on support from the rest of NATO, which is obliged under Article 5 of the alliance to come to the defense of an attacked member.
Gaugers said he had confidence in NATO's defense plans for his country and believed Latvia would not be left on its own. One of his American counterparts affirmed his conviction.
"We always fight as a coalition," said Major Edward Gibbons, a team leader with the Latvian-embedded 4th SFAB.
Sometimes advice can go both ways, soldiers said. For example, Latvian forces built communications architecture that they believed would withstand Russian attacks, allowing troops to maintain contact during battle.
"They're far ahead in how to operate in an electronic warfare environment," Gibbons said. "Our army hasn't gotten to that level of detail."
One difference between the Latvian brigade and a typical American brigade, Gibbons said, is a visceral sense of what is potentially at stake in Europe due to the country's poor history with Russia.
"They understand the threat to the east. It's very real to them," Gibbons said. "It carries more weight than an American brigade carries."
First Sergeant. Matthew Horton, an adviser to the 4th SFAB, said working with the Latvians was about rehearsing the most effective ways to resist any incursion into NATO territory.
"(Russians) won't get (Latvia) for free. There will be strong resistance," he said.
In each of the countries where SFAB troops operate, training areas are tailored to the individual needs of local units, the soldiers said.
Of the five countries aligned with the troops of the 4th SFAB, only Georgia is not a member of NATO. Yet US forces have long been associated with the Georgian military, which was a major troop contributor to Afghanistan.
Major Nick Salimbene, adviser to the 4th SFAB, said living side by side with the Georgians at their base in Tbilisi has created a level of trust that facilitates communication with local troops.
Salimbene said one of the main goals was to have Georgian officers rely more heavily on enlisted ranks. A common difference between Allied armies and those with Soviet heritage is a tendency to centralize decision-making rather than pushing authority down the chain.
Colonel Giorgi Dumbadze, head of military training for the Georgian Defense Forces, said that for the first time, US forces are now training at the brigade level, with an emphasis on integrating combat formations more important.
"We never had the training involved above the battalion and we never had the training with the combined arms," ​​he said. "This is a very important point for us."
Dumbadze said his country's military is in better shape today than it was when it was overwhelmed by Russian forces in a brief war in 2008. He said hope was that the SFAB troops will take the Georgian ground forces to the next level.
"We are not looking for conflict, but in case of conflict we are more ready," he said.