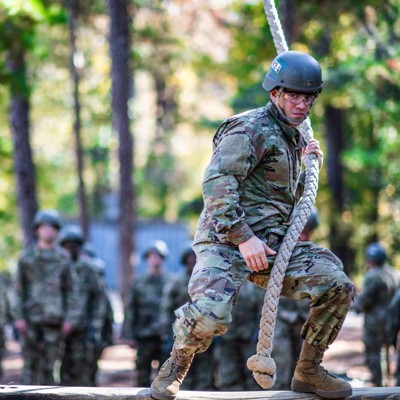 US Army: Bad Publicity Harms Recruitment. Legislators: solve your problems
When military leaders testified that "negative publicity" was hurting recruiting, some senators sympathized, but then questioned generals and officials about ramshackle housing, sexual assaults in the ranks and other issues that plagued the one of the newspapers.
"Today, only one of 11 eligible people between the ages of 17 and 24 has a propensity to serve. Additionally, the general public perception of the military is often inaccurate, with negative publicity overshadowing the tangible benefits and positive global impact Airmen have every day," said Lt. Gen. Caroline Miller, Chief Air Force Deputy Staff for Manpower, Personnel, and Services. said Wednesday during a hearing before the Senate Armed Services Personnel Subcommittee.
Ranking committee member Sen. Thom Tillis, R-North Carolina, also spoke about the impact on recruiting of negative portrayals of the military, pointing to Pentagon investigations of potential recruits who said that they didn't want to join because they feared death, injury, or post-traumatic stress.
"There is no shortage of misleading information related to military service. Members of Congress, the media, and even the military and veterans community all contribute to these disproportionately negative and often inaccurate portrayals of military service," Tillis said. "The result of these mainstream narratives is an uninformed American public that doesn't know much about the military, but what it does know is mostly incorrect."
The hearing comes as the Army and National Guard end fiscal year 2022 below their final strength goals, in part due to recruiting challenges, and expect the problem to continue into 2023. and 2024.
Navy and Air Force officials told senators they were doing better, with the Air Force hitting its active-duty recruiting goals and the Navy hitting its goal of active duty enlistment, most of its personnel. Both said they would fail to recruit from their reserves. The Marine Corps, meanwhile, lowered its recruiting target because its retention numbers were better this year, said Michael Strobl, the service's acting deputy commander for manpower and reserve affairs.
Military officials have asked lawmakers to give them more power to deliver better salary incentives and more targeted online marketing, and to make it easier for recruiters to reach high school students.
The high school-based Junior Reserve Officer Training Corps is one way to introduce young Americans to military life. Sen. Elizabeth Warren, D-Massachusetts, pointed to the findings of an Army study that found students in these programs were more than twice as likely to enlist. But she and other senators noted allegations of sexual abuse by JROTC instructors as well as the broader problem of sexual assault in the military.
"If the military doesn't step in to prevent this kind of abuse, then it's the military that's jeopardizing our ability to build our force for the future and give it real credibility," Warren said. about the programs. "The army screens these instructors and ultimately your reputation is at stake…Today we sent letters to the [Department of Defense] and to the Ministry of Education to try to find out more. And I can't wait to hear what steps each of you will take to ensure that the military is not responsible for the sexual assaults of high school students.
Miller, the Air Force's workforce assistant, said there was "very little oversight" due to the large number of JROTC programs, but said her department was considering adding oversight, both regionally with more directors and locally by involving members of the National Guard and Reserve in the program.
The chair, Sen. Kirsten Gillibrand, D-New York, a prominent critic of the military's response to sexual assault and harassment within its ranks, said she and Tillis wanted witnesses to bring policy suggestions to the budget hearings next year "because I promise you this problem isn't going away, and that's one of the reasons why – especially women – aren't as interested in joining the armed forces.
The poor condition of Army housing may also be a factor, suggested Sen. Josh Hawley, R-Missouri, who said he had waited years for the service to replace old homes at Fort Leonard Wood.
"There's no question in my mind that the military deserves better than what they're getting right now," said Hawley, who sought to overturn the 2020 presidential election results. is that the military doesn't seem to have a plan to replace this aging housing stock. So let me ask you this, in your opinion, how the availability or perhaps the lack of availability of quality military housing for service members and their families affect recruitment and retention?"
Army Lt. Gen. Douglas Stitt, the service's deputy chief of staff for personnel, responded that they are "committed to investing in our housing" and that military families as a whole have opportunities. jobs and daycares by putting "sort of a comprehensive package on the table to ensure that our facilities, our care and our commitment to family members are first class.
Asked by Hawley when they would see this "package", Stitt said they were still working on it and should answer the question, which did not seem to satisfy the senator.
"I think we're past the point of continuing to launch this on the road. I mean it's a problem now, frankly, at Fort Leonard Wood it was a problem ten years ago," he said. "I promised those military men I would be a pain royal in the you-know-what until something changes. , so I keep this commitment. And I'm going to keep going until something changes… but I kept hearing him say, 'Well, we'll get there. We'll get there. We'll get there. Well, at Fort Leonard Wood, we didn't.