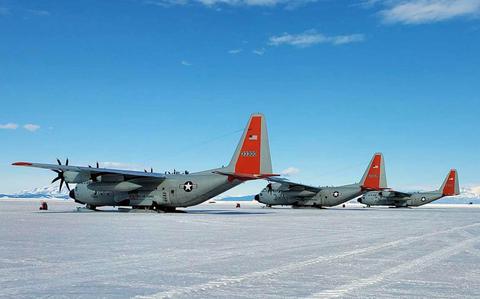 US military delivers people and goods to Antarctica as scientific research season begins
Operation Deep Freeze, the US military mission to support scientists working in Antarctica, is underway, the Pacific Air Force confirmed on Wednesday after an announcement by New Zealand officials.
More than 1,000 scientists, support personnel, and military personnel live and work at McMurdo Station during the Southern Hemisphere summer, when the frozen continent sees daylight perpetually.
The National Science Foundation invests more than $400 million annually in Antarctic research through the United States Antarctic Program, according to a State Department fact sheet released Tuesday.
The foundation's goals include understanding Antarctica, learning about the region's effects, and responses to global processes such as climate, according to the foundation's website.
The Air Force is conducting WinFly missions, or winter flights, to move personnel, equipment and supplies to Antarctica ahead of the research season, Capt. Christopher "Casper" Merian said in an e -mail Wednesday.
"The next WinFly mission is scheduled to begin this week and will continue through October," he said.
Christchurch Airport on New Zealand's South Island, which hosts National Science Foundation and Air Force personnel supporting the Antarctic effort, tweeted on Sunday that a C-17 Globemaster III from the Air Force was to land there that evening to prepare to take people and machinery onto the ice. .
The first WinFly mission of the season in August involved three C-17 flights that delivered 184 people and 139,000 pounds of cargo to McMurdo and returned 22 people and 75,000 pounds of cargo, Merian said.
The transport aircraft are assigned to the 62nd Airlift Wing from Joint Base Lewis-McChord, Washington. LC-130 transport planes, equipped with skis that allow them to land on snow and ice, are also taking part in the mission. They are from the 109th Air Wing at Stratton Air National Guard Base in Scotia, NY
LC-130s operate from McMurdo and C-17s from Christchurch, Merian said.
A Military Sealift Command tanker, a charter container ship and a U.S. Coast Guard icebreaker will also hit the ice this season, he said.
The United States Navy's 1st Cargo Handling Battalion provides port services in Port Hueneme, California, and McMurdo.
Operation Deep Freeze, which dates back to 1955, includes strategic and tactical airlift, airdrop, medical evacuation assistance by air, search and rescue, sealift, fuel supply bulk and cargo handling, Merian said.
"The 2022-23 season is another opportunity to demonstrate our military dedication, resourcefulness and hard work in support of the Antarctic mission," said Lt. Col. Matthew Johnson, Acting Deputy Commander Joint Task Force – Antarctic Support Forces, in comments emailed Tuesday by PACAF.
Operation Deep Freeze runs through July 31, 2023, allowing researchers and others to complete missions during the safest weather conditions, Merian said.