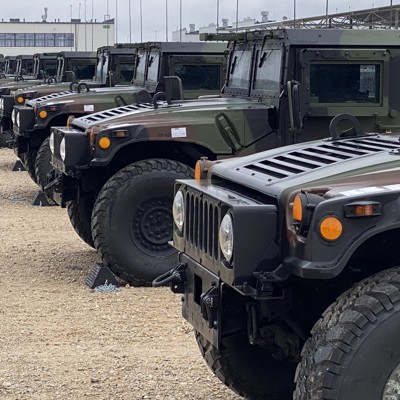 US military equipment ready in Europe for deployment of forces
US troops heading to Europe due to the Russia-Ukraine crisis will be able to take advantage of the army's pre-positioned stockpile of equipment to rapidly deploy to the region, a former commander of US soldiers in Europe has said.
Troops sent by Wednesday's deployment order will pull equipment from warehouses in Europe, but it's unclear which units and what type of equipment they will pull out, said Ben Hodges, who led the US Army in Europe from 2014 to 2017. But, he wrote in an email, "That's why we have [Army Prepositioned Stock] and what I always expected" when he was the commanding general.
The Army's prepositioned stockpile for Europe, called APS-2, includes vehicles and weapons in Belgium, the Netherlands, Germany and Poland that US troops can use without waiting weeks for their equipment servant arrives on the ships.
The day before, General Edward Daly, who heads the US Army Materiel Command, was asked about the pre-positioned stocks he manages around the world.
Daly said the stock includes "combat systems," like tanks, trucks and weapons.
"They're ready for publication and they're ready to respond to crises and conflicts," he said during a Defense Writers Group call with reporters on Tuesday.
The Pentagon announced on Wednesday that approximately 1,700 troops from an 82nd Airborne Division infantry brigade combat team at Fort Bragg, North Carolina, would soon be deployed to Poland, along with 300 troops from the 18th airborne corps in Germany as part of a command unit. .
Additionally, approximately 1,000 troops from a German-based Stryker squadron will travel to Romania.
These newly announced troops are separate from the 8,500 the Pentagon had previously announced as ready to deploy.
"These moves are undeniable signals to the world that we stand ready to reassure our NATO allies and to deter and defend against aggression," Pentagon spokesman John Kirby said Wednesday.
Daly said on Tuesday that the command had not sent additional equipment to preposition itself for possible future deployment of additional troops, such as the 8,500 on alert. These pre-positioned stocks are also separated from weapons and equipment destined for Ukraine, he said.
The prepositioning of military equipment overseas is not new, dating back to the Cold War, said Mark Cancian, senior adviser for the international security program at the Center for Strategic and International Studies.
"So for a long time the idea was that you could position the equipment where you thought the conflict was going to be, and then you could move the troops in the event of a crisis or an actual conflict," Cancian said.
The army has seven prepositioned storage locations, from Europe to the Indo-Pacific to Japan and South Korea, as well as on ships in Diego Garcia, an island in the Indian Ocean. The other military services also have pre-positioned stocks distributed throughout the world.
Army stocks have undergone an overhaul in recent years due to a new strategy. A decade ago, the equipment was obsolete and instead intended for emergency use, Daly said. Today, these stocks have the most modern equipment and supplies and are used regularly in exercises, such as the recent DEFENDER-Europe 21.
"We want to use it during exercises because it builds muscle memory and now it allows for quick release if we were to do it under duress or in contested conditions," he said.
For 2022, the Department of Defense requested $1.19 billion for pre-positioned stocks under the European Deterrence Initiative, less than the $1.94 billion it received the previous year, according to a report by the Congressional Research Service.
If troops need to move equipment from one country to another, that's where things can get bogged down in bureaucracy with regulations and requirements designed for commercial activities to be applied to a military convoy, a said Cancian.
"Apparently that's been a huge problem, because at least the peacetime regulations are quite onerous on border crossings and other requirements for shipping munitions or tanks, you know, big things like that. They had delays of several weeks trying to move the equipment," he said.