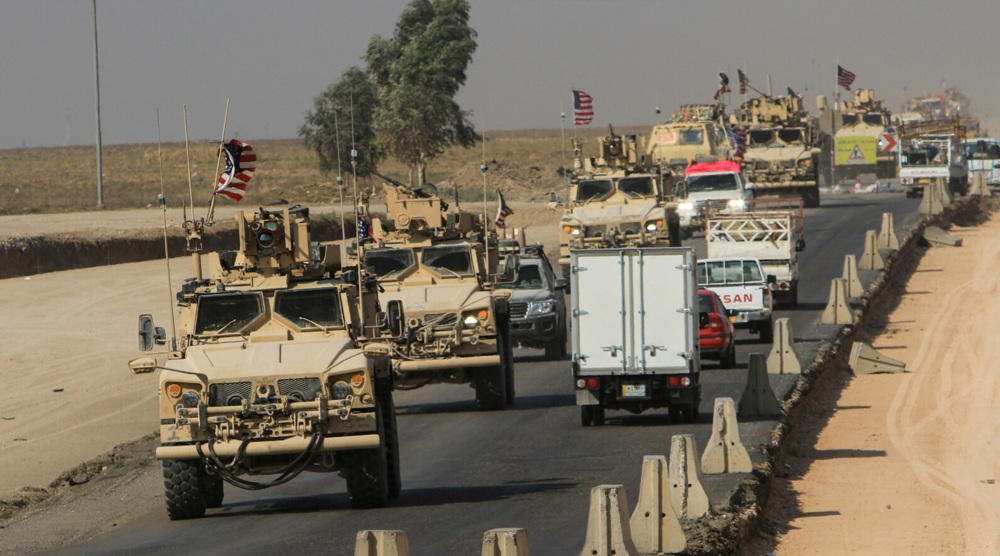 US military transfers convoy loaded with ammunition enters northern Iraq from Syria
The US military has reportedly sent a new convoy of trucks carrying military and logistical equipment from Hasakah province in northeastern Syria to one of its bases in the semi-autonomous Kurdistan region in the northern Iraq.
An Iraqi security source, speaking on condition of anonymity, told Arabic-language al-Maalomah news agency that a convoy of more than 20 military and armored Hummer vehicles as well as trucks loaded with food and logistics entered Iraq on Tuesday.
The source added that the convoy came from an area in northeast Syria, which is controlled by allied militants of the so-called Syrian Democratic Forces (SDF).
The source said the vehicles headed towards al-Harir air base in Shaqlawa district of Kurdistan region after crossing Semalka border post.
Unmanned aerial vehicles reportedly flew over and protected the military convoy as it arrived in Iraq.
Anti-American sentiments have intensified in Iraq since the assassination of Iran's top counterterrorism commander, Lt. Gen. Qassem Soleimani in 2020.
General Soleimani, commander of Iran's Islamic Revolutionary Guard Corps (IRGC) Quds Force, and his Iraqi trench mate Abu Mahdi al-Muhandis, deputy head of Popular Mobilization units, were targeted with their companions on January 3, 2020 to a terrorist drone strike authorized by then US President Donald Trump near Baghdad International Airport.
Two days after the attack, Iraqi lawmakers approved a bill requiring the government to end the presence of all US-led foreign military forces in the country.
On January 8, 2020, the IRGC targeted US-led Ain al-Asad in the western province of Anbar, Iraq, after launching a wave of attacks in retaliation for the assassination of General Soleimani.
According to the Pentagon, more than 100 American soldiers suffered "traumatic brain injuries" during the counterattack on the base. The IRGC, however, says Washington is using the term to mask the number of Americans who were killed in the reprisals.
Iran described the missile attack on Ain al-Assad as a "first slap in the face".