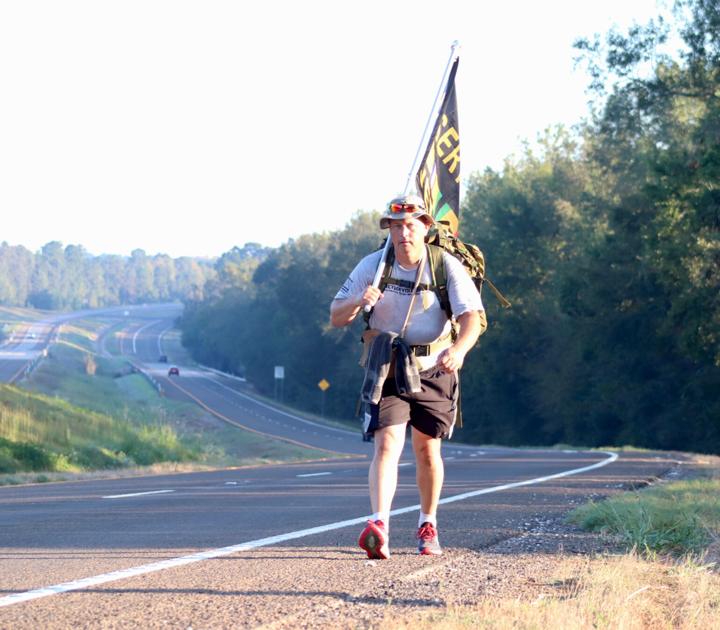 veterans walk to raise awareness of Gulf War syndrome | New
[ad_1]
Thirty years ago John Mumby fought for the US military in Iraq during the Persian Gulf War. This week, he is fighting to raise awareness of the effects of war, known as Gulf War Syndrome, by hiking 300 miles on a hike through Anderson County.
Mumby left his home in Winnsboro, Texas last week and hopes to arrive in Austin by the end of October. It reached Frankston on Tuesday and Palestine on Wednesday. The 20 mile drive includes rough terrain with rolling hills along Highway 155.
Mumby said he felt exhausted after walking for about two hours on Wednesday morning wearing a 45-pound backpack and a large navy blue flag with "Desert Storm Veteran" in yellow letters.
"I never thought I would do this, not in a million years," Mumby said, stopping to catch his breath along Highway 155 Wednesday morning. Its goal is to raise awareness of the unexplained health problems experienced by veterans known as Gulf War Syndrome and to fund research into its causes.
The Persian Gulf War, also known as Operation Desert Storm, began in 1990 when a coalition of United Nations forces responded to Iraq's capture of Kuwait and invaded Iraq.
"Not many people remember it, but it was chemical warfare, and it affected quite a few soldiers," Mumby said. The symptoms can be debilitating and I have suffered from it myself. "
The symptoms are so severe that they hamper the ability to do some work, but the government does not compensate veterans for their disabilities.
"When you ask for some help, it seems like the VA (US Veterans Affairs) doesn't want to get involved in the help," Mumby said. "VA disabilities and compensation do not fully recognize Gulf War illnesses. "
While jobs are not difficult to find, few employers can accommodate a veteran's disabilities while they are working.
During his walk, Mumby receives support from another veteran, John Ring of Mineola, Texas, of Walk for Vets. Ring traveled the southern United States, over 2,500 miles, on a multi-month trip in 2019 and 2020. Ring is alerting media along the route and requesting accommodations from communities along the route. path.
Another Gulf War veteran walked with Mumby Tuesday afternoon through Frankston and invited him to dinner at Pepita's Mexican Kitchen. That evening he slept in a room at Frankston United Methodist Church where church members allowed him to take a shower and gave him water.
Ring said his mission is to tackle the issues facing veterans and the epidemic of veteran suicides, which averages 22 per day. Ring is a seven-year veteran of the United States Army.
"I don't deal with any of the issues I walk for, but my son does and my friends do," Ring said. "It inspired me to help other veterans do something other than, you know, up close."
Mumby, a 10-year veteran, has confirmed he is also struggling with suicide.
"I personally spent a month in treatment because I tried to kill myself," Mumby said. "Suicide is definitely a problem with veterans. "
Mumby explained that many veterans kill themselves because they "don't belong". Another is the lack of treatment options. Mumby said he walked to focus on the positive things and "keep my mind busy and occupied and not have to completely focus on the negative things."
"Once I get to Austin, hopefully I have a bit of a platform," Mumby said. "I just want to ask people to put pressure on their Senators and Members of Congress to push for legislation for the VA to accept and recognize Gulf War illnesses for what they are."
Mumby arrived at the Anderson County Foreign War Veterans Station on Wednesday afternoon. The local VFW, formerly known as Post 8924 Anderson County Memorial Post, is hosting its two-night stay. Thursday is a day of rest and he will stay in Palestine on Thursday evening.
Mumby resumes his journey along Highway 79 Friday morning to Oakwood, Texas, hoping to connect with other veterans and family members along the way.
"The overwhelming response is people are paying attention," Mumby said. "When people are confronted with someone with these health issues, they have a better understanding of how to help. "
For more information on Anderson County VFW, visit online at www.vfw.org or call 903-723-2251. For more information on Walk For Vets, visit www.walkforvets.org.
The University of Texas Southwestern Medical Center is a leader in Gulf War Syndrome research and accepts donations on a page called "Col." Bill Davis Gulf War Disease Research Fund. The donation site is located inside the website, www.utsouthwestern.edu/research.
[ad_2]