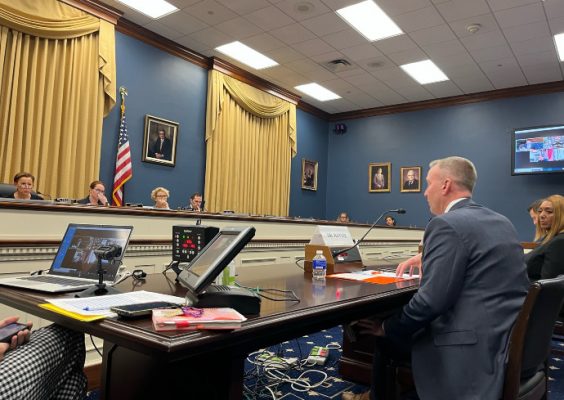 Vice Chancellor Haynie testifies on Capitol Hill about the need for journeys for veteran entrepreneurs
J. Michael Haynie, Syracuse University's vice chancellor for strategic initiatives and innovation and executive director of the D'Aniello Institute for Veterans and Military Families (IVMF), told the Capitol Hill lawmakers that veterans separating from military service are in critical need of multiple and robust pathways to post-service jobs and careers.
Haynie testified before the House Small Business Committee on June 8 in a hearing titled "Military to Main Street: Serving Veteran Entrepreneurship." The purpose of the hearing was to discuss the role of veteran entrepreneurs in the economy and how the United States Small Business Administration (SBA) supports their transition to civilian life.
Haynie was among a panel of presenters deeply invested in the work of supporting veteran entrepreneurs, including Brenton Peacock, director of the Florida Veterans Business Outreach Center at Gulf Coast State College in Panama City, Florida; Laurie Sayles, President and CEO of Civility Management Solutions in Greenbelt, Maryland, and Joe Shamess, Founder and General Partner of Flintlock Capital in Great Falls, Virginia. After their testimony, they answered questions from committee members.
During her testimony, Haynie drew on her long experience in the Veterans affairs community to help committee members understand the unique needs of this population. "For many, the transition from military to civilian life is extremely difficult," he said.
Haynie's experience leading the IVMF over the past decade – and specifically the institute's work to apply an academic and data-driven lens to understand the opportunities and challenges associated with the transition of military life to civilian life – gave him a unique perspective.
Some veterans go on to graduate school and others take training that prepares them for a rewarding trade and career, Haynie said. "At the same time, it is also true that many veterans throughout history have shown a strong desire to create their own jobs – by becoming a business owner – after taking the 'uniform."
Data from the U.S. Small Business Administration suggests that in fiscal year 2021, more than 20,000 service members participated in small business ownership training in preparation for their transition to civilian life.
"Where the rubber meets the road, our Soldiers, Sailors, Airmen and Marines are as enterprising as they come – a fact contrary to the perception that the military is universally rigid and bureaucratic," Haynie said. "In fact, our military is trained to make things happen, often in the face of dynamic, resource-limited environments."
By its very nature, starting and growing a new business is the highest form of social and economic service, Haynie said. More than 60% of new jobs created each year come from small businesses, including the new jobs that now employ the millions of post-9/11 veterans who transitioned to civilian life over the past 20 years.
"It is for these reasons, and many more, that the public and private sectors should continue to work together, on behalf of the men and women who have answered the nation's call to military service, to expand opportunities for veterans to serve the nation again as the next generation of American business owners and leaders," Haynie said.
Haynie highlighted three findings from the just-released 2022 National Survey of Military Affiliated Contractors (NSMAE), a study conducted annually by the IVMF. Among the findings are that access to capital is a major challenge for seasoned entrepreneurs; navigating local resources is difficult; and the diversity of the community equals disparate obstacles and challenges.
Haynie also spoke at length about female veterans and military wives. Women currently make up 17 percent of the U.S. military, and their service often provides them with job skills that are in high demand in the civilian workforce. Female veterans possess proven leadership ability, are resilient, and demonstrate composure and confidence in high-pressure environments. "However, despite these compelling strengths, many female veterans cite persistent barriers to the educational and networking resources needed to bridge the skills and experiences gained in the military with business ownership," Haynie said.
"Owning a small business allows women connected to the military to pursue professional careers, in the face of unique care responsibilities and frequent moves often typical of a lifestyle connected to the military," said Haynie said. "Therefore, collective action to create inclusive pathways to business ownership for women connected to the military should be a national priority."
Haynie said public and private sector funding should be directed to this end and targeted not only to increasing the scale of existing business ownership programs and pipelines serving women connected to the military, but also deployed to create and develop new and innovative paths to business ownership for the military. women.
A first step is to create a wider awareness of the support resources that already exist. One example is the V-WISE (Veteran Women Igniting the Spirit of Entrepreneurship) initiative, currently offered by the IVMF. This program, a partnership between Syracuse University and the U.S. Small Business Administration, includes online classes, a three-day in-person training experience, and ongoing mentorship for female veterans and military spouses interested in home ownership. 'company. Similarly, the IVMF also offers, through a program called Onward to Opportunity, a free opportunity for military-related women to earn professional certificates and degrees that are highly demanded in the labor market and aligned on business ownership.
Many of the social, well-being and economic challenges that veterans face later in life have their roots in preparing the veteran for a successful transition from military to civilian life, concluded Haynie.
"Therefore, as we emerge from the COVID health emergency, the first and best use of our resources should be to ensure that those transitioning from military to civilian life are prepared, supported and connected from proactively to the communities where they will live, work, and raise families. Based on research and practical experience, I have suggested here that increased support for military-related business ownership resources and to training programs is able to advance this goal," he said.