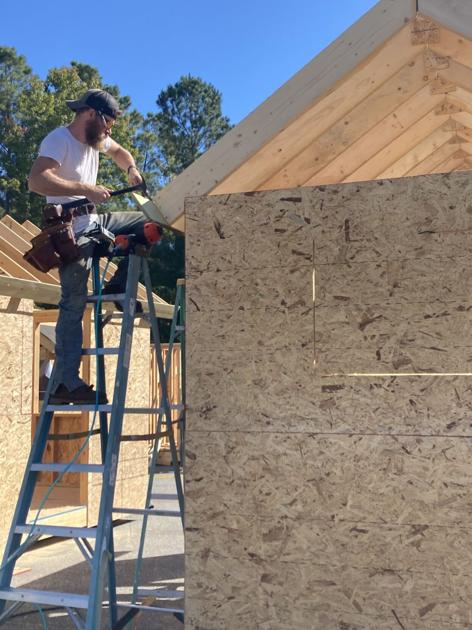 Volunteers build tiny homes for Veterans Village | Local News
Just up I-95 on a pleasant sunny Saturday morning, a cacophony of hammers, drills, and other construction noises filled the air around a Townsend church.
These rumors indicated real progress being made in the Golden Isles Veterans Village, which when completed will provide 30 cottages for homeless veterans in Glynn County as well as comprehensive services to help individuals successfully reintegrate. in the society.
Project leaders recently accepted an offer of support from South Newport Baptist Church in McIntosh County, through which the cottages are being built by volunteers off-site and will be transported to Brunswick when completed.
"Due to a delay in underground engineering, we decided to take advantage of the great opportunity that the Newport Baptist Church, this congregation and the 40 affiliated churches presented to us," said John Bartosh, board member. of the Golden Isles. Veterans Village. "They said that based on the missionary work they are doing in the Caribbean and in North Carolina, South Carolina, they would like to do something local. So they attacked the Golden Isles Veterans Village.
Two model houses, on which banners are hung, will be exhibited to show the progress of the project. One will soon be installed in Brunswick on the site of the new village and the other will be installed in front of the Townsend Church, in the hope of attracting more volunteers to the project.
The banners also include a QR code that can be used to access the project's website, where people can donate money or in-kind or inquire about volunteer opportunities.
Volunteers representing several churches were on site Saturday to work on the 12 units currently under construction.
"We've been nonstop for the past two weeks," said Henderson Hope, who coordinates mission plans for South Newport Baptist Church. "Every day we worked here… I hope this project will be finished by December 1st. "
Hope has worked in construction on mission trips to the church for over two decades. He heard about the Golden Isles Veterans Village when his church was considering his own mini-house project.
He contacted one of the leaders of the Golden Isles Veterans Village and immediately offered to lend him a hand.
"Within a week, we started building our first two units," Hope said.
Volunteers and donors have been generous to the project, Bartosh said.
"We are very grateful to a lot of people right now," he said.
Bartosh said he looked forward to seeing the village built and serving the Brunswick area veterans.
"We are open to community support and look forward to the opportunity to serve the community, and within 50 miles or better, military veterans who need it," he said. "Our project is a helping hand for homeless veterans. "
Nearly 30 volunteers were hard at work on Saturday and under Hope's effective leadership.
"He's like a conductor," Bartosh said. "He's got it all figured out, and when people come in, they started on one item, then moved on to the next."
Veterans Village volunteers were also on hand, including Board member Joyce Griggs, who retired in 2013 after a 33-year career in the military at the rank of lieutenant colonel.
She said she was delighted to see the Veterans' Village providing assistance to those who have served this country.
"It gives me a great honor to be a part of it, to give back to my fellow veterans," said Griggs.