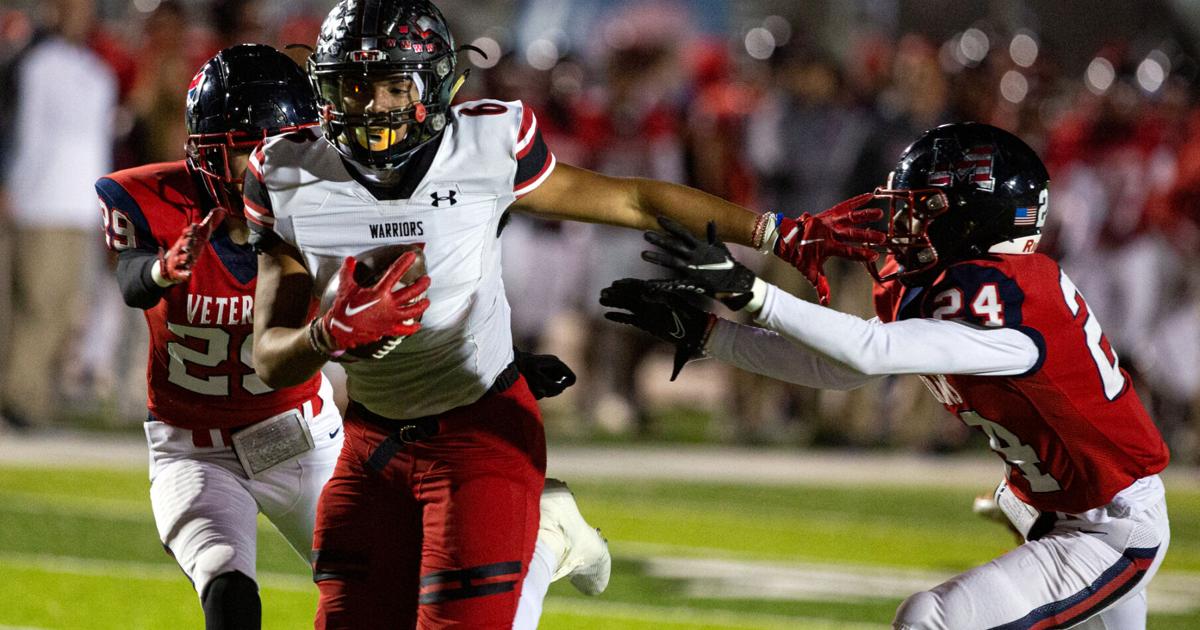 West slashed by Brownsville Veterans Memorial in scuffle around area | Advosports
CORPUS CHRISTI — Victoria West didn't expect an athletic meet, but got one.
The Warriors gave up 744 total rushing yards in a 74-59 loss to the Brownsville Veterans Memorial at Cabaniss Stadium on Thursday. West had 558 total rushing yards.
"We just couldn't keep up. We left it all on the field and did our best," main receiver Jeremiah Baldwin said. "Our whole team ended up missing. It's something we have to live with. »
The Warriors had no answer for Chargers leading running back Bryan Chavez, who rushed for 429 yards and nine touchdowns to put Veterans Memorial in the regional semifinals next week against Corpus Christi Miller or Pharr-San Juan Alamo North.
West (6-6) had three days to prepare for Veterans Memorial's triple-option offense and was without senior linebacker Jaxx Rangnow.
"It definitely had an effect," senior linebacker Clayton Sciba said. "It's just not the same going up against JV players as going up against the real thing. Their linemen were also fast. I was on the ground almost every game.
Chavez had 17 carries for 212 yards and four touchdowns to give the Chargers a 41-23 halftime lead. His nine touchdowns put him tied with 12 others, including former Hallettsville running back Jonathon Brooks, for the fourth-most touchdowns in a single UIL game at 11.
"I wasn't trying to go there," Chavez said. "Scoring touchdown after touchdown, I didn't even think about that."
West senior D'andre Fillmore had his own career night in the loss with six catches for 223 yards and five touchdowns.
"I thought we had a good chance," Fillmore said. "We just had to keep scoring. That just didn't happen with this game.
Four of Fillmore's touchdown receptions were 30 yards or more, including two over 60 yards.
"The thing about Fillmore is watching him keep working to get better, never being satisfied," West head coach Courtney Boyce said. "Obviously he is a big, big key to our attack. Just shout out to our seniors, the leadership and resilience from the start of the season all the way through.
Veterans Memorial has scored touchdowns on 11 of 12 possessions, with the 12th being short on time. The Warriors scored touchdowns on their first three drives, but settled for a field goal inside the red zone on the fourth and kicked off on the fifth to close out the first half.
West had a chance to pace Veterans Memorial on third and goal from the Chargers 1-yard line with 4:30 left in the first half, but a false start and incomplete pass led to a a 23-yard field goal. by Armando Rojas senior.
"At the end of the half, it's a small part of the game," West head coach Courtney Boyce said. "That's when we allowed them to extend the lead and then it was kind of back and forth from there."
Junior quarterback Camden Repper opened the game by completing nine of his first 13 passes, including each of his first four with touchdown passes for 63 and 37 yards to Fillmore in the first quarter.
He finished the game 20 of 29 passing for 412 yards and six touchdowns, both season highs. Repper also added a 3-yard touchdown run in the first quarter.
Junior running back Kamauri Montgomery had 114 yards and a touchdown.
"Our kids were fighting," Boyce said. "They do a great job, just the hiccups. In this type of game, it will catch up with you. Hats off to (Veterans Memorial) and hats off to our kids for their fight.
Sam is a sports reporter for the Victoria Advocate. You can reach him at [email protected] or (361) 580-6576. You can follow him on Twitter @Fowlersports14.