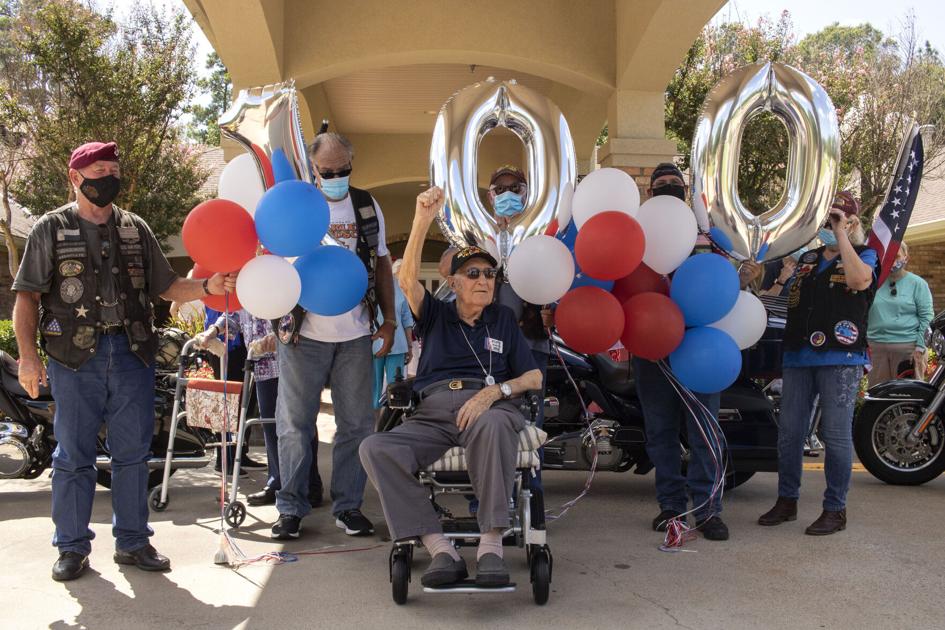 World War II veteran honored as 100th anniversary approaches | New
It was a special day in the Atria Copeland seniors community in Tyler as the East Texas Patriot Guard Riders lined up outside for WWII veteran August Pahmiyer.
A three-day anniversary celebration kicked off Tuesday afternoon ahead of Pahmiyer's 100th birthday on Thursday.
The event was hosted by Lachaka Johnson of the Atria Copeland Seniors Community, who decided that Pahmiyer deserved to be celebrated for his years of life and years of service.
"We always want to thank our veterans, especially when they take a step like this and what better way to celebrate than to see the Patriot Guard Riders show up and take a ride for him, showing their respect and saying hello to our veteran. Johnson said.
Pahmiyer's daughter Janet Long, who was present at the celebration, pointed out how blessed she feels to celebrate her father's birthday. She also mentioned that when they return to her hometown of Brenham, the city will designate her father's birthday, August 26, as "August Pahmiyer's Day".
Pahmiyer was born in 1921 in Karnes City but has lived in Brenham for over 70 years. He recently moved to Tyler's a few months ago to retire.
Pahmiyer served in the military for almost four years. He entered the service in 1942 until 1945, when World War II ended.
While in the military, Pahmiyer had a memorable service career. One of them was assigned to the dual function of rifleman and driver of a two and a half ton supply truck with the 681st Tank Destroyer Battalion on Victory in Europe Day with the surrender of the 'Germany May 8, 1945.
Pahmiyer also saw his unit reach "the bloody sands of Omaha Beach" 20 days after "D-Day" on June 26, 1944.
Pahmiyer says his most memorable memory was Hitler's defeat.
Long said his father had been thinking about making the military his career until he met his mother Ella Schulz. Their marriage lasted 32 years until his death in 1978.
His current hobbies are watching sports teams such as the Houston Astros, Texas Rangers and Dallas Cowboys.
Flying the American flag has always been and continues to be a priority in Pahmiyer's life. He received four bronze stars.